By Emily Hollis-Grahn, Contributor
Social distancing and stay-at-home orders have left us feeling disconnected from each other and ourselves. Without our regular fitness classes and workout buddies, many of us are lonely, bored, and restless. Or maybe those same feelings have got you thinking that it's time to make a change for the better!
We took it to Instagram to find out what boutique fitness studios in Atlanta and which Atlanta personal trainers are offering online, virtual workout classes. Just because we're not able to to go the studio and gym doesn't mean we have to give up on our fitness goal.
Whether you want to maintain your gains or simply try a new activity during quarantine, these fitness studios and trainers have virtual options to help you be healthy at home!
Studios and Gyms in Atlanta Offering Virtual Fitness Classes Online
Highland Yoga, @highlandyoga – Take advantage of Highland Yoga's discounted virtual private lessons, streams, and classes while you can! Sign up to access their digital library of yoga classes, meditation workshops, and even kids yoga classes, starting at $30 per month or $9.99 for a day. Online content is updated monthly, and members can log in to use the library and watch live streams for free for 6 months. Send them an email for more info, and make sure you join their social media challenge for the month of April!
Eat the Frog Fitness, @eatthefrog_cumming – Members can access Eat the Frog's Olympic-style workouts with virtual coaches in their private Facebook group or by email. New workouts are posted weekly, so non-members can call or text (470) 297-5642 or send Eat the Frog an email to get involved!
Seviin Yoga, @seviinyoga – Virtual classes from Seviin Yoga will get your body moving and calm your mind. Whether you're looking for deep stretches or a more vigorous workout, these yogis are here to help you stay focused and fit. See their class schedule and sign up here! 
SPENGA Roswell, @spenga_roswell – SPENGA has free, instructor-led and self-guided virtual workouts, from bodyweight exercises to Total Body BURNOUTS that can be done with weights or a gallon of milk. Follow them on Instagram for their streaming schedule, and like their Facebook page for new videos and live-streamed workouts!
The Bunny Hive, @the.bunny.hive – The Bunny Hive has online classes to help parents and their little ones continue to bond and grow. Missing your social network these days? The Bunny Hive has a virtual support group (cool moms only) and online Q&As with experts and medical professionals. Check out their weekly schedule and sign up for a class here!
FIT4MOM Smyrna/Vinings, @fit4mom_smyrna_vinings – FIT4MOM is the nation's leading pre- and post-natal fitness regimen. Not only are they offering a virtual running club with personalized plans to help moms meet their goals, they've created online workouts and playgroups to keep families active at home! Moms, view the schedule and class details here.
HOTWORX Atlanta Decatur, @hotworxatlantadecatur – This infrared sauna fitness studio's HOTWORX Burn Off app has functional training, yoga, and pilates workouts, not to mention a Virtual Personal Trainer until April 30th. Non-members can reach out to HOTWORX on Facebook or Instagram to join virtually.
AFC Fitness & Spa, @fitnessafc – Based out of Philadelphia, AFC Fitness & Spa has listed several resources for virtual home workouts on their blog. Their YouTube channel also has videos featuring HIIT, yoga, cardio, and barre workouts, so don't forget to subscribe!
BRING IT OM® YOGA, @bringitomyoga_ – These yogis are posting free yoga classes on Instagram Live. Visit their Instagram profile to view their schedule in the Story Highlights and tune into a class!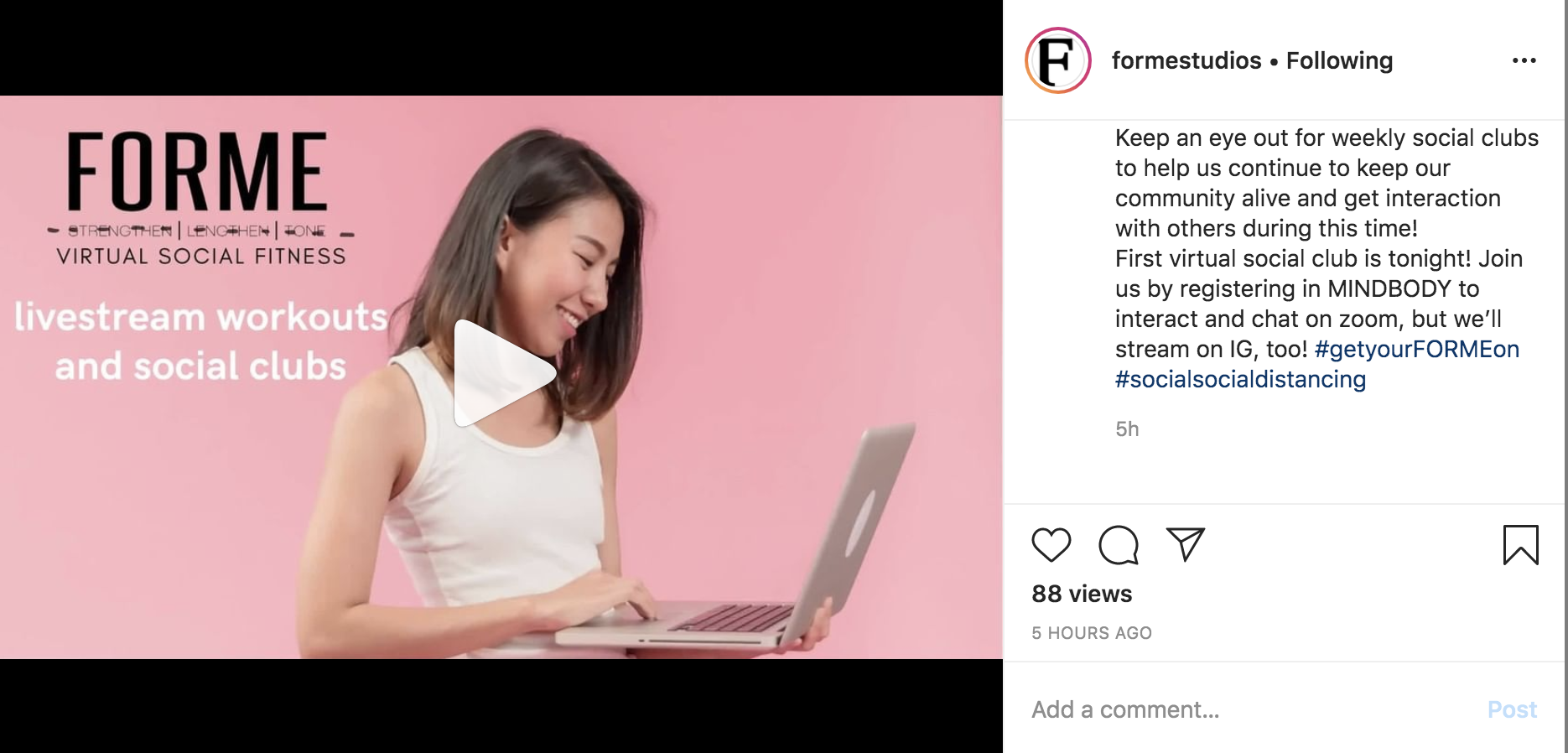 FORME Studios, @formestudios – The gals at FORME create fitness regimens with the everygirl in mind. They're offering virtual nutrition coaching, live-streamed workouts in their Facebook group for current members, and virtual membership packages for online barre and cardio workouts starting at $20. Their Spring into Summer Self-Care Social Challenge is in full swing for the month of April, too! For any ladies whose income has been impacted by recent business closures, FORME will admit you to their virtual members group for free to help you stay healthy during this time; send them a DM on Instagram for more info.
Burn Studios, @burn_studios – This cycling, kickboxing, and yoga studio is streaming their fitness routines online via Zoom. After you sign up for a class, you'll be emailed a Zoom link where you can join your class.
Vixen Workout Atlanta, @vixenworkoutbuckhead – These virtual fitness classes incorporate HIIT, strength training, and dance. Click here to book yours!
MISCFIT Atlanta, @miscfitatl – This HIIT, yoga, and boxing studio is posting exercise demos on their Instagram profile! Online training will be available on their website soon, so check back often.
AKT Inman Park, @theaktinmanpark – AKT's full-body fitness regimens combine dance with strength training and toning. They're streaming energizing workouts in their open Facebook group!
Shred415 Alpharetta, @shred415alpharetta – If you're ready to sweat, sign up for a virtual Shred415 class here; for all of April, anyone providing essential daily needs can send Shred415 an email to access live-streamed classes for free! There are also classes for your young ones on the ShredKids livestream, which you can book in the Shred415 app. Kids classes are voluntary donation-based, so participants can click here to donate if they are able. All donations will go to Meals by Grace, a nonprofit organization providing a free, delivered meal program to families at risk of food insecurity in Forsyth County.
Clarity Fitness, @claritydecatur – The folks at Clarity are all about both mental and physical wellbeing. Subscribe to their YouTube channel for healthy tips and exercises, and send them an email to join the members-only Facebook group for more fitness content! 
STAT Wellness, @statwellness – Book a virtual class with STAT instructors to increase your strength, stability, and clarity! Most workouts are low impact, and the only equipment you should need can probably be found around your home.
VESTA Movement Ponce, @vestamovementponce – If you need some high-intensity movement to burn off your pent-up quarantine energy, VESTA Movements is posting daily workouts on Instagram Live, so check out their profile today!
Solstice Yoga + Barre, @solsticeyogabarre – Register for a virtual yoga, prenatal yoga, or barre class from Solstice Yoga here. Doctors and nurses can also send Solstice an email with their name, email address, and workplace to receive a free class!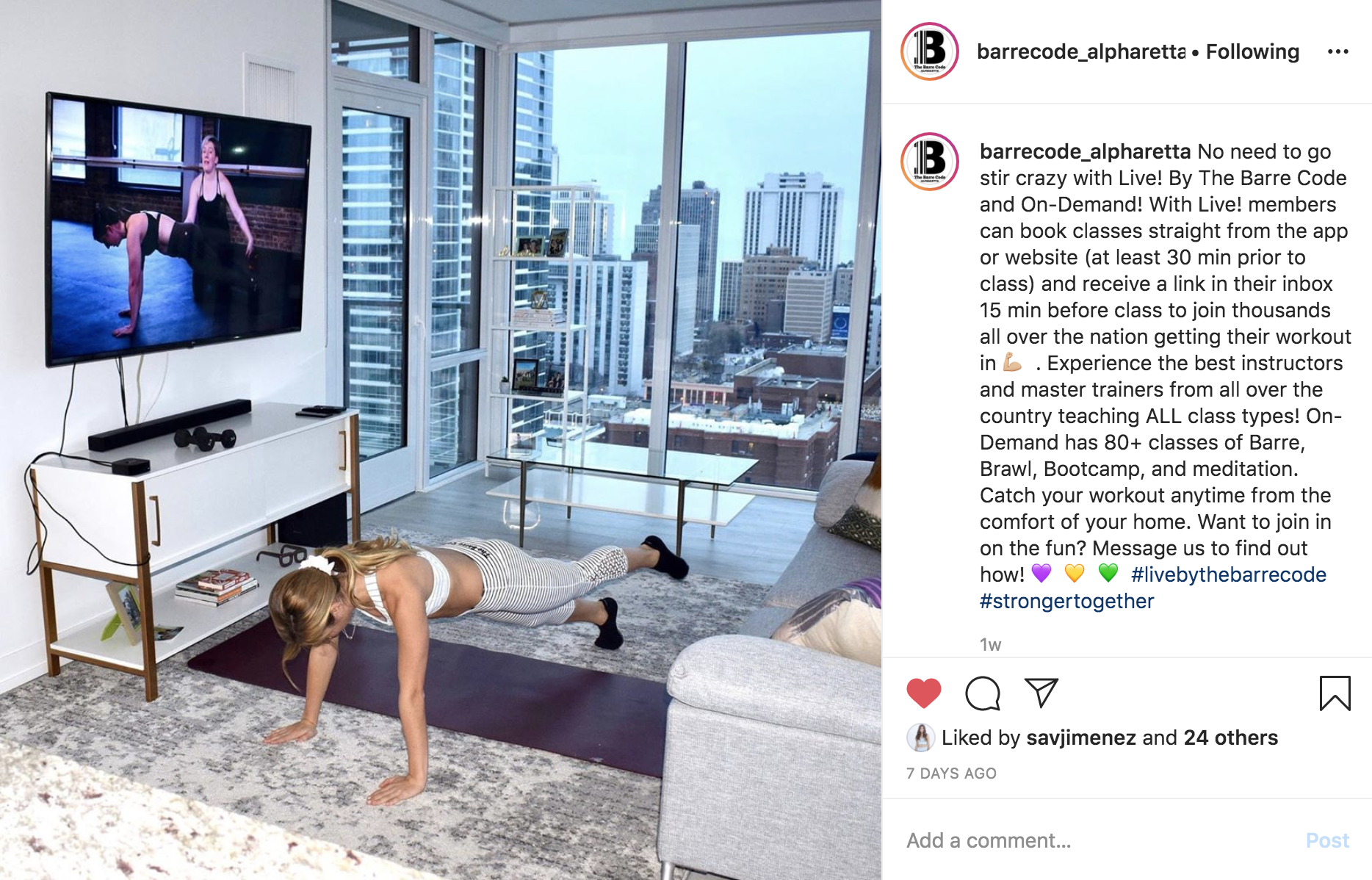 The Barre Code Alpharetta, @barrecode_alpharetta – Don't let the name fool you; subscribe to this fitness group for over 40 live-streamed classes each week and more than 80 barre, Brawl, Bootcamp, and meditation classes On-Demand! Members can book classes straight from The Barre Code's app or website and receive a link in their inbox 15 minutes before class to join. The Barre Code is also offering free memberships for anyone who has lost their job recently; send them a DM on Instagram or an email if you qualify!
Yonder Yoga, @yonderyoga – This studio has uploaded tons of yoga, meditation, and kids yoga videos for free. Check out their virtual library here.
Pink Barre, @pinkbarrestudios – Join the ladies at this studio for a virtual barre class! Visit their website to view the schedule and book.
Total Row Fitness, @totalrowbuckhead – You can find full-body HIIT, yoga, and bodyweight workouts for free from Total Row on their YouTube channel and sign up for free classes on their  website.
Full Circle Studio, @fullcircleatl – Register for a virtual, donation-based yoga class with this wellness studio here, and sign up to receive a Zoom link for their Full Support Circle group, which includes meditation and group discussion, for free!
Fit9ATL, @fit9atl – Check out Fit9's YouTube channel for HIIT, MetCon, and boxing exercises. The WAAM app has even more of their workouts from celebrity trainers, not to mention the at-home fitness routines posted on Fit9's Instagram profile.
Bloom Wellness Consulting, @bloomwellnessconsulting – Need some extra motivation to stay healthy during quarantine? Bloom Wellness' one-on-one virtual fitness training is 50% off for the month of April, and all of their coaching sessions are now virtual.
Body Bar Group Fitness Studio, @bodybarsmyrna – The instructors at the locally-owned studio are sharing their tabata, yoga, prenatal yoga, HIIT, cardio, and barre workouts on their YouTube channel; give them a look and subscribe!
Exhale Spa, @exhalespa – Visit Exhale Spa On Demand for free access to tons of yoga, cardio, mediation, and barre classes at home for 30 days!
Functionize Health & PT, @functionizehealth – Send Functionize a DM on Instagram to find out how to access their virtual pilates classes, HIIT workouts, customized training regimens on the Train Heroic app, and more, all created to help athletes achieve optimum wellness!
Peach Out Power Yoga, @peachoutpoweryoga – Peach Out's yoga instructors are live-streaming both power and restorative classes twice each day on their Facebook page for free! Follow them on Instagram for schedules and details.
Atlanta Krav Maga & Fitness, @atlantakravmaga – To give this combat fitness studio a try, sign up for their virtual academy! You'll get 3 classes each week, access to their members-only Facebook group, and more for $10 per month.
BACH Fitness, @bach_atl – Register for a live-streamed strength training class for $10 in the BACH Fitness app, but if you're new, make sure you sign up first; they've got your first class covered. Click here to find out about their Virtual Unlimited Membership!
Barre3 Buckhead, @barre3buckhead – Still haven't gotten your barre fix? Click here to register for a one-time virtual class pass or a live-streamed workout package from Barre3!
Be Hot Yoga Atlanta, @behotyogaatl – Check out Be Hot Yoga's schedule to register for a virtual class and get your zen on! Also, listen to their free audio recording for guidance through classic Bikram poses.
Camp Gladiator, @campgladiatoratl – These instructors are uploading full workouts on their Facebook page and offering a virtual fitness challenge that includes live-streamed workouts to help you meet your goals. Check out this site to learn more and sign up!
Westside Yoga Atlanta, @westsideyoga – Snag a virtual membership to this yoga studio by making a $29 donation here. You'll be given access to classes and workouts in their private Facebook group!
---
Personal Trainers in Atlanta Offering Virtual Workouts
BodyFitz Personal Training, @bodyfitzpersonaltraining – These personal trainers have posted all sorts of free workouts to help people of any age stay healthy. Don't forget to subscribe to their YouTube channel for more fitness content, and send them an email if you're looking for virtual personal training!
Garza's Fat Loss Camps, @travisgarzaofficial – These transformative fitness instructors are offering virtual daily workouts, Saturday kickboxing classes, and even kid's PE classes! Make sure you sign up for online access and keep an eye on Travis Garza's Instagram profile for the weekly livestream schedule.
Savannah Young, @savannahyoung14 – A certified yoga instructor, Savannah is uploading her yoga flows to her YouTube channel, so don't forget to subscribe!
Lion Chaser Fitness, @lionchaserlife – Certified personal trainer Heath Ward at Lion Chaser Fitness is live-streaming his classes online; register for the next one here!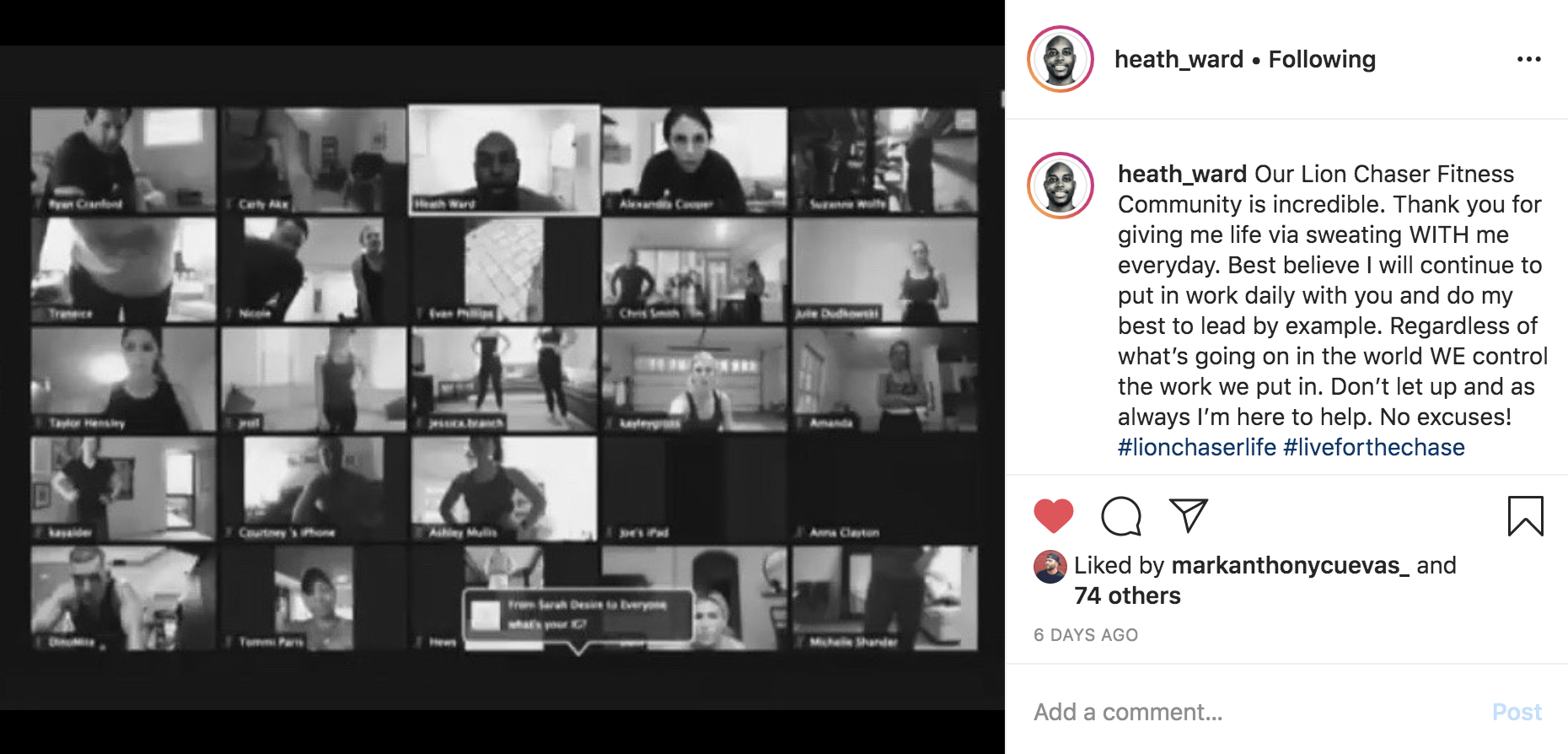 Sculpt With Brianne, @sculptwithbrianne – Brianne Stringham, a local fitness instructor, has targeted, HITT, and full-body workouts on her website! Subscriptions start at $25 per month with new content uploaded weekly. She's also offering personalized one-on-one and small group training over Zoom! Visit her Instagam profile and send her a DM for more info.
SnatchBack Fitness, @snatchbackfitness – Joshua Norman, the founder of SnatchBack Fitness, is leading classes and one-on-one workouts via FaceTime. Visit his Instagram profile and send him a DM to schedule a session!
Lacey Page, @lace_page – Check out Lacey's Instagram profile for her virtual yoga club schedule. Classes are free, so visit her profile today for the Zoom password and link to attend!

Ronnie Denmon, @coachronniedenmon – Ronnie has online workout subscription plans and a home interval workout guide, each starting at $15, on his website. The home workout guide includes video explanations of each movement and requires no extra equipment.
Aimee Parscale, @aim2livefit – Visit Aimee's website to register for her online personalized workout plans and nutrition packages. Mention The Fit Atlanta and Aimee will offer a discount for one month! She's also posting exercise tips and motivation on her Facebook page and offering a 14-day, at-home workout e-book for $19.99!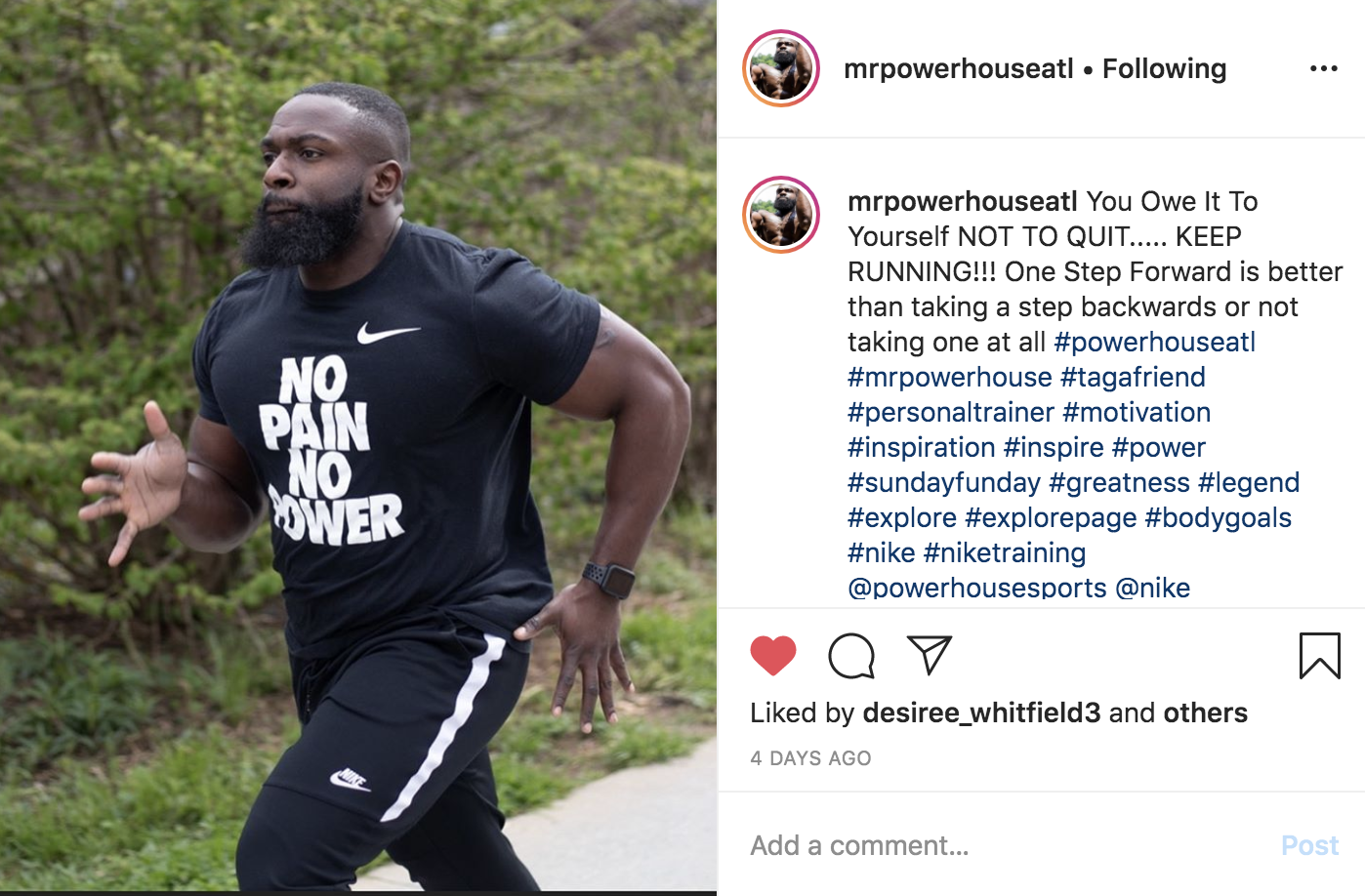 Mr. Powerhouse, @mrpowerhouseatl – Certified personal trainer Micah Baisden is taking online clients now! DM him on Instagram for more info.
Eboni W., @fitt.eboni – Eboni is now accepting new clients for virtual, customized personal training! She includes personalized meal plans and access to her private Facebook group, all starting at $10 a week. Visit her website to book your session!
Ashlee Chane'l, @projectbodytm – Group fitness instructor and certified personal trainer Ashlee is offering virtual, half-hour training sessions, with weekly and monthly payment options. Click here to schedule with her!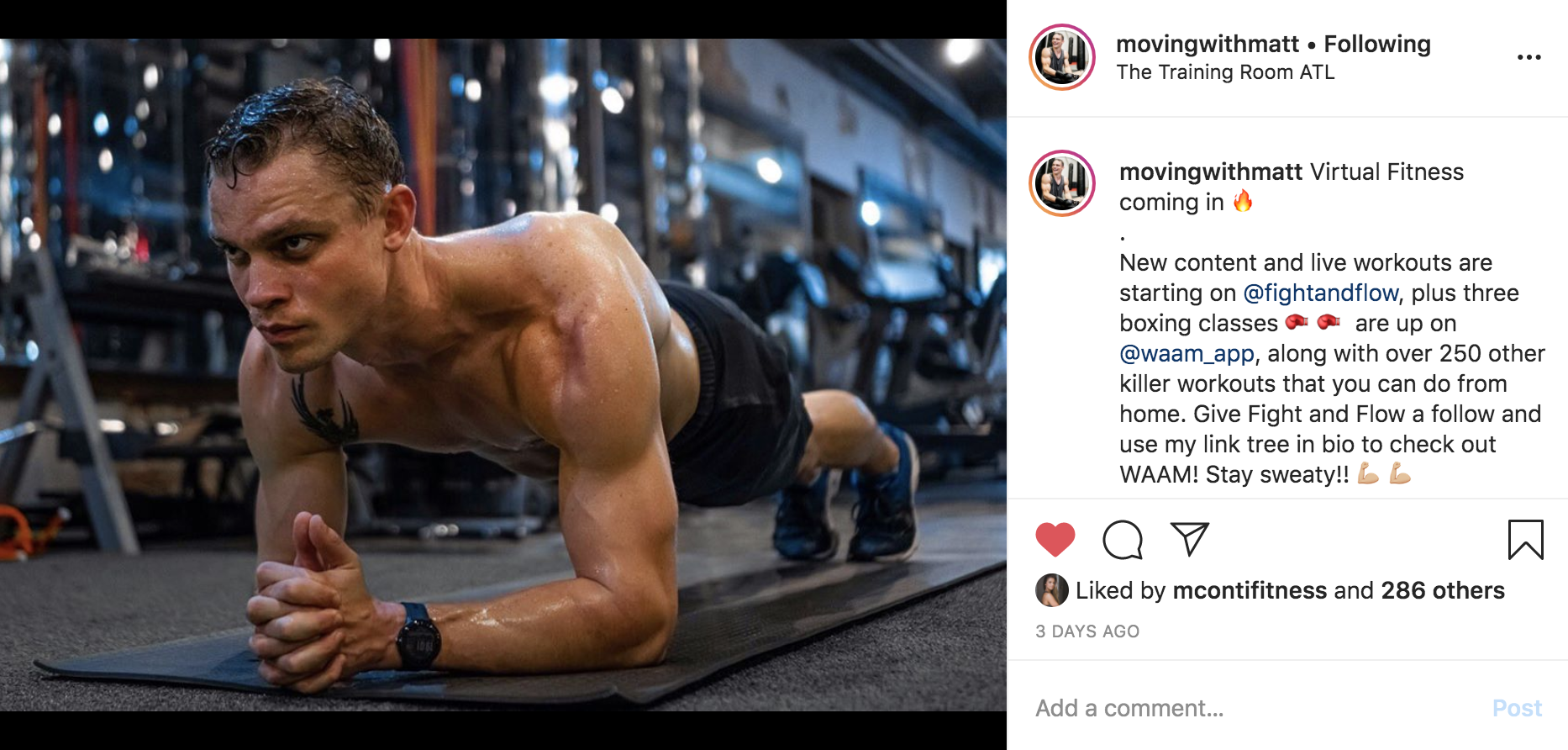 Matt Thomas, @movingwithmatt – This combat fitness fighter and yogi is offering virtual classes through the Waam app. Download it today to get started!
Gem Munro, @gem_munro – This holistic life coach and personal trainer is posting free workouts on her Instagram page and her YouTube channel. She's also got virtual personal and small group training packages available on her website!
Erin Meason, @turn_erinmeason – Local yoga instructor Erin is uploading her hour-long and thirty-minute routines to YouTube.
Body by Bee, @body.by.bee – For $10 per month, you can train virtually with boxer and personal trainer Bee on his members-only Instagram profile, @workouts.by.bee. He's also doing virtual personal training on Google Duo and uploading video workouts and meal tracking help on the Trainerize app. Purchase a subscription or session here!
Queen TumFit, @twumfitbabesclub – Stephanie Twum provides wellness coaching, competition training, and personal training to empower and strengthen her clients. Visit her website to purchase an online personal fitness training package.
Michelle Riley, @michellerileyfit – Ladies, if you need help getting out of a fitness funk, Michelle is here for you! Apply to her online training program to see if you're a good fit for her virtual workouts, meal plans, and coaching. Michelle is also offering 7 days of virtual training and nutrition coaching for free on her website!
The BodyGawd, @bodygawd – This local instructor has live-streamed personal training, online bootcamps and workouts, and even virtual meal planning! You can purchase them here on her website.
Amy Hutch, @amyhutch_cpt – Amy, a local fitness trainer, is offering donation-based virtual personal training and breath work to help people maintain their wellbeing under quarantine. Send her a DM on Instagram for details.
DID WE MISS YOU?
If you're a boutique fitness studio, gym, personal trainer, wellness provider, healthy food + bev buisness, etc. and you're not listed, let us know!
First Name
Last Name
Thank you!